A number of FLOSS tools require users to do work at the command line in order to set them up or operate them. With Linux and its applications, this is often expected. Very few Windows, Apple, or even Android applications expect anyone to do this anymore.
Expecting this of end users is problematic (as I've explored to some extent before), and is likely to lead to very minimal spread and adoption of a piece of software.
Recently, I have been speaking with the Tahoe-LAFS project about improving the usability of their secure, decentralized file hosting system. They told me an OSX package was newly available. Oh, excellent, I thought. They can be a candidate for the expert UX review sweep we're about to do. Under the guidance of a Nielsen Norman Group researcher, we would walk through the discovery, install, setup, and basic functions of a small suite of FLOSS security tools.
The Tahoe-LAFS team gave me a link to a recent functional build. I downloaded the package, ran the standard Mac installer, and clicked on the resulting app. It gave me the error message "You can't open the application "tahoe" because it may be damaged or incomplete."
I went back to their devs. It's broken, I told them. Can I have a new package?
Oh, they said. You just have to run it at the command line.
At this point, it looked like the expert review for Tahoe-LAFS was off, and I was going to have to report that the app had showstopping failures. Mac users are at least marginally used to double-clicking packages to install them (and these days, the iTunes store means they often don't even need to do that). Any user, no matter how advanced, is likely to take a system message saying an app is "damaged or incomplete" at face value. Even an expert user would be unlikely to try to work the app at the command line at that point; forget about asking your average nurse, retail clerk, or office manager to do so. All that aside, I didn't have any interface to evaluate.
Then one of their developers sent me a video of the Tahoe-LAFS setup process, and I saw an opportunity to do a review comparing what I saw to standards for usability.
And as it turns out, this is may also be more generally helpful to explain to FLOSS developers why the command line isn't just "not 'shiny'" or "not dumbed down like a GUI" — it actually cognitively disables users.
Here is my annotation of the Tahoe-LAFS setup video. NOTE: Have the YouTube "Annotations" feature active, or you won't see the usability comments and none of this will make much sense.
I've used the relatively standard usability heuristics from Jakob Nielsen as the source of the annotations here. Quibble with them as you may; note that heuristic review is kind of outdated as a UX tool; complain that the article is old. That still doesn't change the fact that from the moment the user hits a command line prompt, they're instantly faced with a tremendous number of known usability problems.
Not the least of which is cognitive load. Command lines demand that users remember the correct phrase to make the system run, rather than giving them prompts which might help them guess what the system needs them to do next. The overwhelming majority of people alive today have never had the opportunity to learn those commands. Making them look them up and learn them themselves would make them very, very frustrated — they don't have time for that. GUIs aren't just "shiny": they are tools which help us remember what is possible.
As the cognitive load article advises tool developers:
Offload tasks: Look for anything in your design that requires users to read text, remember information, or make a decision. Then look for alternatives: can you show a picture, re-display previously entered information, or set a smart default?
(Let me just put this one more way: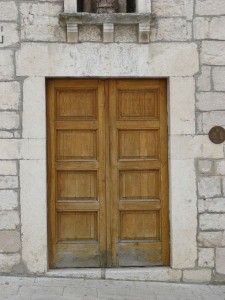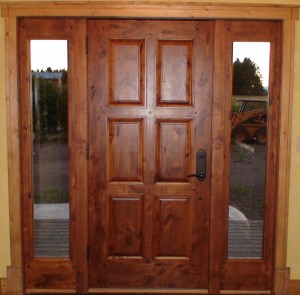 The door on the left is like a command line interface. Notice it has no handle. It's not at all clear to the user which way the door would open, if it opens at all. The user is going to have to work hard to figure this door out. But it looks like whoever owns the building doesn't want you using this door, anyway. "Get lost," this door says. "You're not wanted here."
The door on the right is like a GUI. You can get a sense — just by looking at it, without any pushing or prodding — of what you're supposed to do from the handle on the right. If you look even closer, the hinges on the left would clue you in that the door opens inward, so you won't stand in its way and get hit. As an added bonus, this design lets you see what might come next — someone might be waiting to come in, you might need an umbrella if it's that overcast, etc.)
Other standards which would be useful to Linux developers moving to develop for Macs might include the OSX Human Interface Guidelines. In this case, their guidelines for "Starting and Stopping" come in handy. Note the mismatch between these guidelines and the video above:
The guidelines assume that developers give users setup and onboarding information. Not much of that has apparently been provided in the video. (Maybe there's a balance to be struck?)
The guidelines suggest using animation and interactivity to explain setup. None of that in evidence in the video.
The guidelines suggest setting reasonable defaults. One of the first things the video demonstrates is changing defaults. It will be useful to the Tahoe-LAFS team to answer the questions: Why would a user want to change defaults? What are their goals for protecting their files? How often will they need to access these files, where, in what settings, and from which devices?
Like the Nielsen guidelines, the OSX guidelines recommend making features discoverable — which, at the command line, they won't be.
So there's the review. The good news is, it seems like Tahoe-LAFS is in a very good position to build a smart new interface from the ground up. I hope to work with them on that…